Delivery and return
Delivery and return
Next day delivery in store
Buy before 6pm to receive your order next day.
Next day delivery
Orders before 6pm from Monday to Saturday (or before 1pm on Sunday) will be delivered Next working day (except Northern Ireland and Highlands). Orders placed after 6pm (after 1pm on Sunday) or for Northern Ireland and Highlands will be delivered in 2 working days.
Drop Point
In 2-3 working days. Pick up your parcel in one of the many diferent collection points available and during a wide range of hours.
Same day delivery in London:
Place your order before 13:00 to get it today!. If you order later on, you'll receive it the next day and if you order on Sunday, you'll receive it the next working day.
Shipping Information
Shipping Information
SHIPPING
Complimentary ground shipping within 1 to 7 business days In-store collection available within 1 to 7 business days Next-day and Express delivery options also available Purchases are delivered in an orange box tied with a Bolduc ribbon, with the exception of certain items See the delivery FAQs for details on shipping methods, costs and delivery times
Composition and care
Composition and care
Characteristics of wood :
Hard, compact , fiberous and porous
Good wood gives a rich, warm and beautiful surface.
Wood is used for the construction of:
Floor, Furniture, Walls
Incidental furnishing (lampshades, picture frames)
Kitchen & restaurant ware
Description
Application
Suitable for transferring water without abrasive particles or other liquids whose properties are similar to water.
Widely used in well water lifting, garden irrigation, vegetable greenhouse water supply, breeding industry water supply and drainage, pipeline boosting, etc.
Installed in enclosed places, or at least protected against inclement weather.
Features
Stainless Steel pressed tensile pump body & pump cover, welded SS304 shaft.
Hydraulic optimization design, excellent performance.
Nozzle, guide vane, and impeller PPO engineering plastics.
Safe materials, reducing secondary water pollution, and a healthier water pump.
Operating conditions
Suction lift up to 6m
Liquid temperature up to +40˚C
Ambient temperature up to +40˚C
Max. working pressure: 6 bar
Motor
2-pole induction motor
Single-phase 50Hz
0.75kW
Insulation: Class B
Protection: IP44
With capacitor and thermal overload protection.
Materials
Pump Body: Stainless Steel
Motor Bracket: Aluminum
Impeller: Stainless Steel
Shaft with Rotor: Stainless Steel
Ejector: PPO
Mechanical Seal: Ceramic-Graphic
100% Copper Winding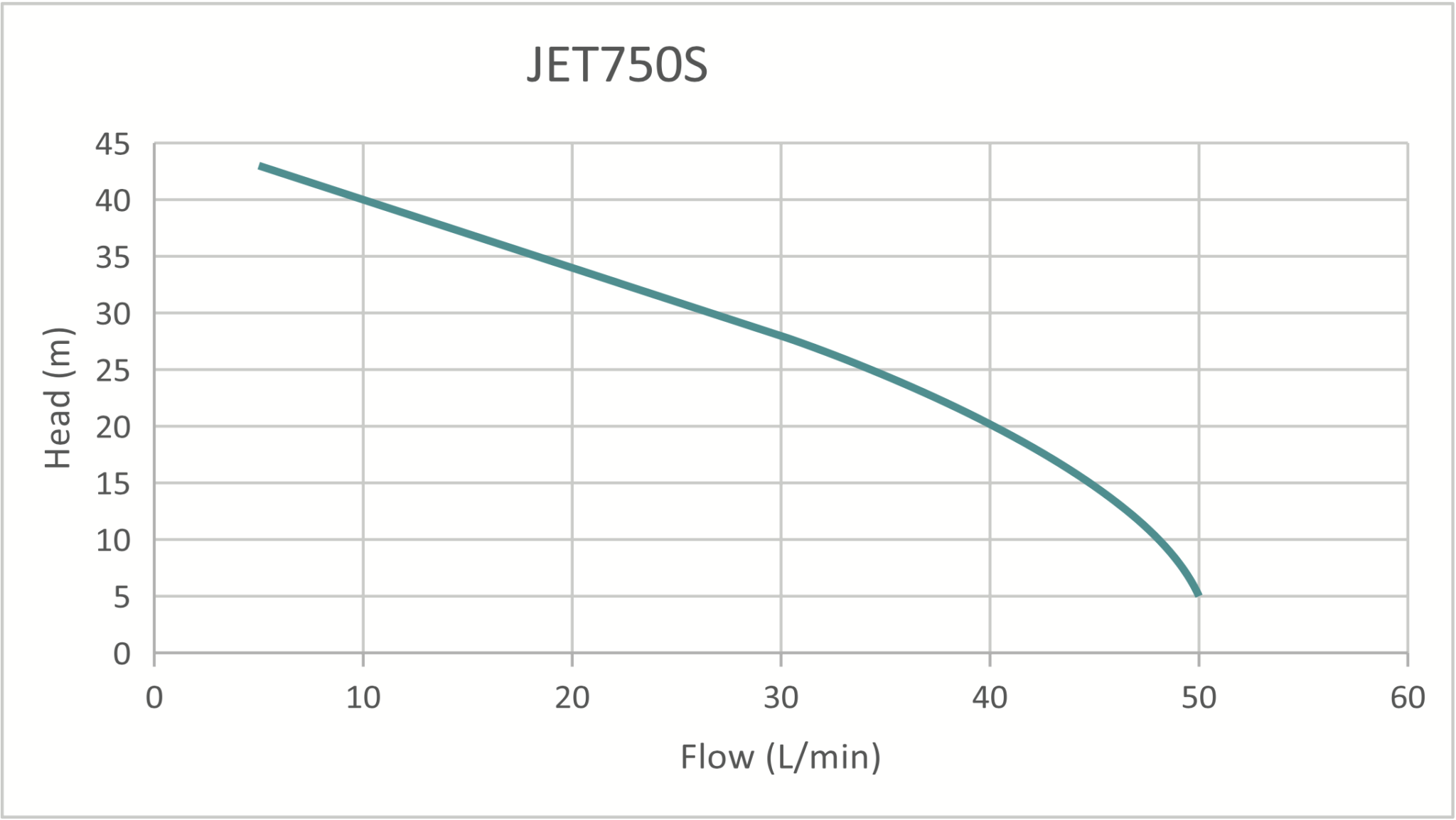 TYPE
Normal Power
Input Power
Ampere
Q=CAPACITY
Single-phase
P2
P1
Single-phase
m3/h
0.3
0.6
0.9
1.2
1.5
1.8
2.1
2.4
2.7
3
HP
kW
kW
Lt/min
5
10
15
20
25
30
35
40
45
50
230V-50Hz
1*220v
Total head in meters
JET750S
1
0.75
1.1
5
H(m)
43
40
37
34
31
28
24
20
15
5