20" Jumbo Filter Housings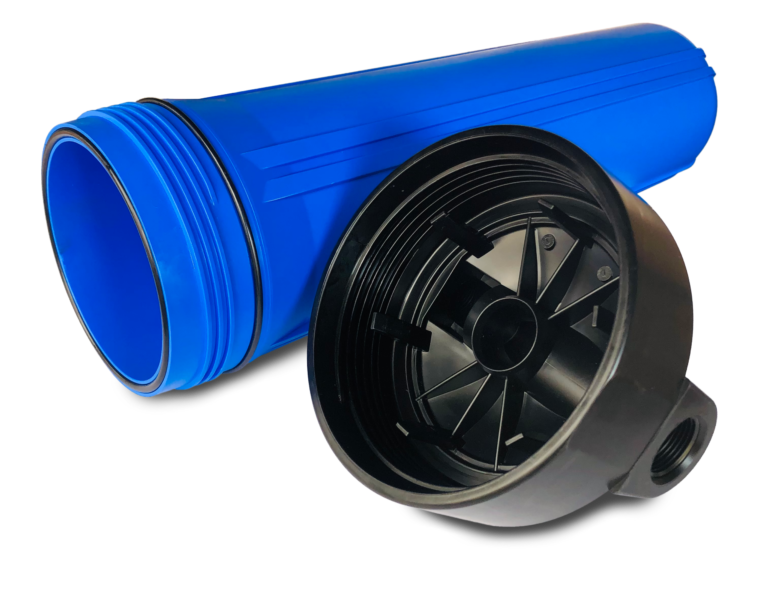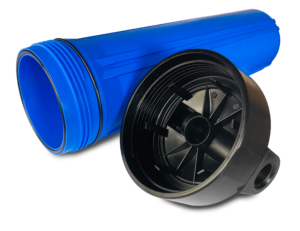 What Is A Big Blue Filter Housing?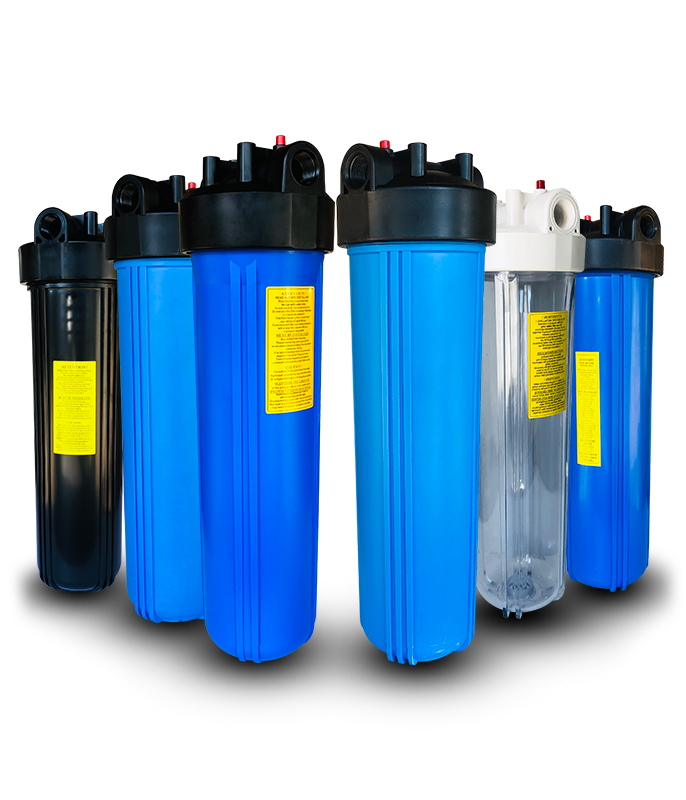 20″ Big Blue and Big Black Heavy Duty Filter Housings offer the versatility to meet all of your large-capacity filtration needs, including high-flow and heavy sediment applications. The extra-large housing allows for greater cartridge capacity, reducing the number of vessels required for high flow-rate applications. Sumps are available in  20″ lengths. The High-Flow Polypropylene (HFPP) cap is available with 1″  NPT inlet and outlet ports. The 1 internal port allows a greater volume of liquid to pass through the HFPP cap more rapidly. Big Blue and Big Black Housings are compatible with a broad range of chemicals and are available with or without a pressure relief button. They accept a wide variety of 4-1/2″ diameter cartridges.
Available in 20″ lengths.
Available with a pressure relief button on the inlet side of the cap.
Available with 1″ NPT inlet and outlet ports.
Accepts up to 4-1/2″ diameter cartridges.
Specifications
Temperature (Min): 4,444 °C
Temperature (Max): 37,778 °C

Pressure (Min):

40 psi

P

ressure

(Max): 90 psi
We Have A Wide Range Of 20" Jumbo Filter Housings
How does a Big Blue water filter housing work?
A Big Blue filter housing holds big filter cartridges. Other manufacturers don't describe their large diameter filter housings as Big Blue. Any term for large diameter housings refers to housings that operate the same way. Water enters one end and goes down through the housing. Depending on what type of filter cartridge you have, water might flow through the filter and then out, or it might go all the way to the bottom and flow up through the media in the drop-in cartridge. You can put a variety of filter cartridges inside a housing depending on what you're trying to filter out.
Water Flow In The Filter Housing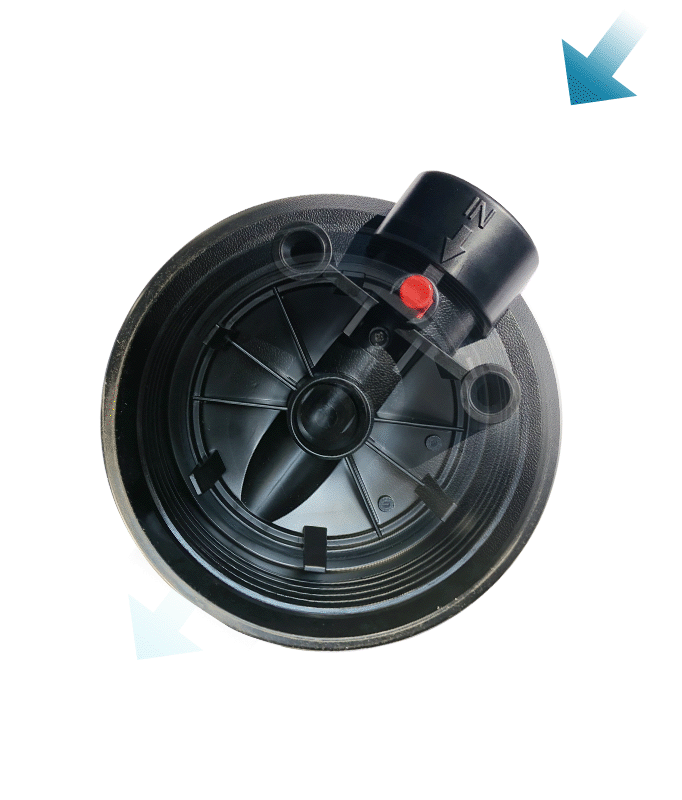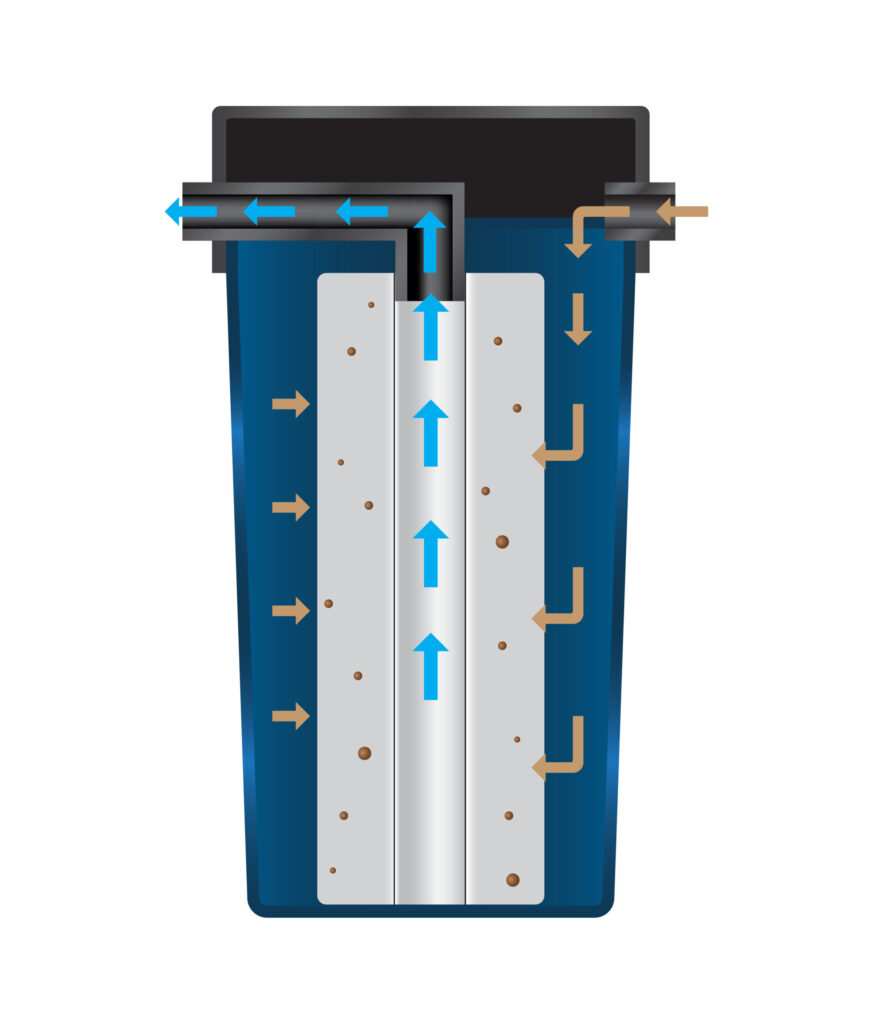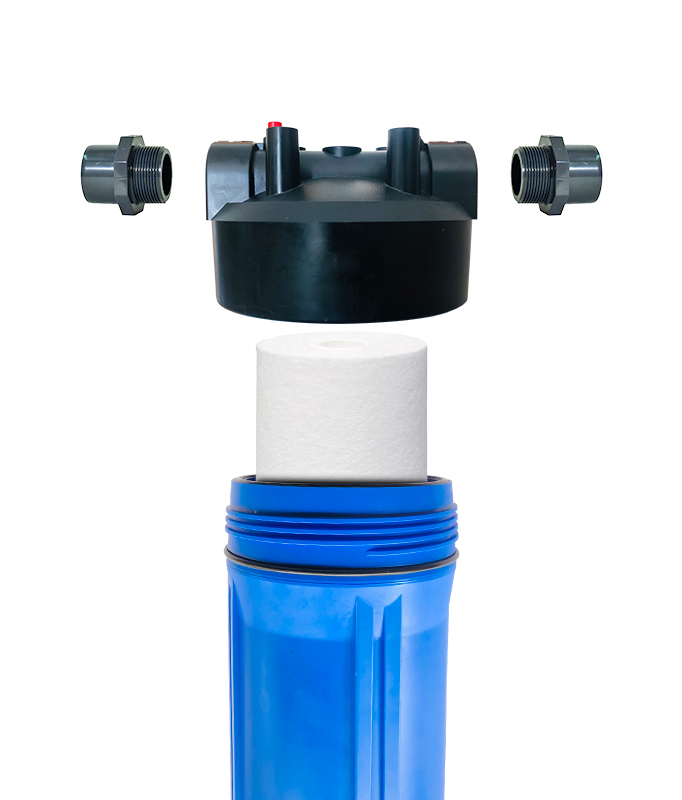 How do you install a Big Blue filter housing?
The Big Blue housing cap inlet and outlet requires 1″ male fittings and depending on your plumbing pipe sizes, you may need to use a reducer to fit the pipe size. When you're installing the filter and housing and you have an inch and a half plumbing, make sure the cap measures an inch and a half because you never want to reduce the size from your plumbing size.
If you're using your Big Blue housing commercially, just connect the water into it. The cap has an in and an out. The IN is the feed side. The OUT is the filtered side. Make sure the in and out are lined up properly since the filter housing doesn't come on a mounting bracket. Then install your mounting bracket on to hand the filter housing on the wall.
How often should you change a Big Blue filter housing?
Every 10 years.
Big Blue filter housings are dependable and last a long time. The manufacturer suggests that you replace it every 10 years. If the housing's been in place for 10 years, you probably should replace it. Every time you turn a faucet off while water is flowing through this filter housing, water hammering occurs. This means the inertia of the water flow stops with a force of energy. Many times water hammering causes the housing to move or flex. Eventually, the plastic could get tired of flexing and start to crack. Housings with clear sumps (body) don't flex like the blue ones or the white ones or the black ones. Clear filter housings use a different plastic blend that doesn't flex as well, so it cracks and fails much sooner than the polypropylene colored ones. We recommend you change a clear filter housing at least every five years so that you don't end up with a catastrophic failure where the housing cracks and water floods.
What are Big Blue filter housings used for?
These filter housings are used for point-of-entry (POE) filtration, typically residential. They can be used commercially with more flow rate than a standard-size filter housing. A lot of water can flow through a large-diameter filter housing, so it's used for a variety of applications. You can put a sediment filter, a carbon filter, or a specialty filter with ion-exchange resin or arsenic-reducing media in a Big Blue filter housing.
What do Big Blue filter housings remove?
The housing itself doesn't remove anything. It just directs water flow around whatever filter cartridge you put inside. The cartridge does the filtering, or separating the water from the contaminants. The filter housing itself doesn't do anything until you put something inside. And what type of cartridge you put inside determines what will be removed.
What's the difference between Big Blue and other filter housings?
Size. Big Blue filter housings work best with point-of-entry flow rates for a whole house. Smaller filters and filter housings are used at the point-of-use (POU). The small cartridges are designed to install under the sink to filter water to a dedicated faucet or with a combination of filters in a reverse osmosis system. Filter housings are designed differently to accommodate flow rate. If you're looking for a point-of-entry (POE) filter, you'll want something that can withstand high flow rate. And that's where the Big Blue housings come into play.