Brief Introduction
JND-880 semi-automatic stretch blow moulding machine designed by CE/CSA standard. With a microcomputer controlling system, it controls various technical parameters needed more accurately and more steadily. Only one person without special training operates it more easily and more safely. JND-880 is fit to blow carbonated beverage bottles, mineral water bottles, cosmetics bottles, and hot-filling bottles, especially oil bottles with handles.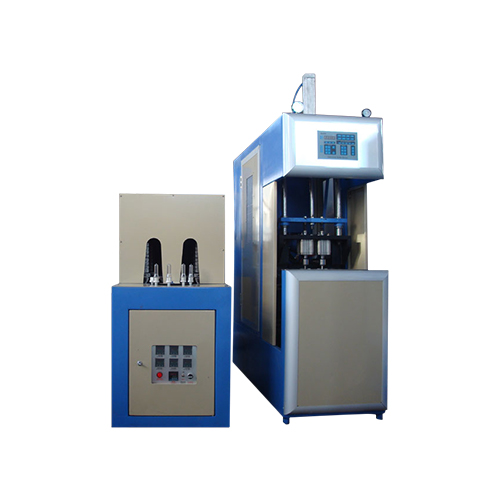 Option 1:
One blowing machine with one heating oven (Production Capacity per hour: 0.1-2.5L: 850pcs, 3-5L: 600pcs)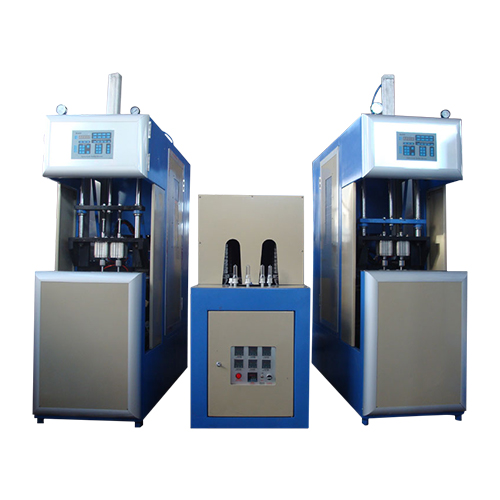 Option 2:
Two blowing machine with one heating oven (Production Capacity per hour: 0.1-2.5L: 1700pcs, 3-5L: 1200pcs)
Description of JND-880:
Simple operation and high control precision bottle blow unit is equipped with specially designed PLC control system. It controls the whole bottle production process through a soft touch pad with time control precision up to 0.01 second. High quality pneumatic unit
Pneumatic unit provides power for machine movements including machine driving and bottle blowing. JND-880 is equipped with world famous brand components (Festo or SMC) to reduce the noise, save energy and produce the high quality bottles.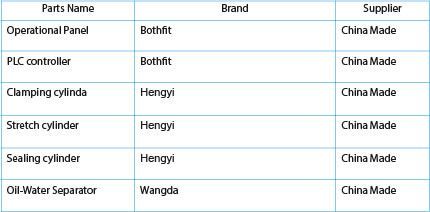 Trait:
HM-1500 semiautomatic bottle blow molding machine is suitable for producing PET plastic containers and bottles from 100-2000ml. It is widely used to produce the carbonated bottle ,mineral water,carbonated drink bottle, pesticide bottle oil bottle cosmetics,wide-mouth bottle etc.
Adopting double crank to adjust mould ,heavy locking mould, stable and fast ,Adopt infrared oven to heat the perform ,the perform rotated and heated equally.
The air system has been divided into two parts: pneumatic action part and bottle blow part to meet the different requirements for the action and blow .It can provide sufficient and steady high pressure for blowing large irregular shaped bottles.
The machine is also equipped with muffler and oiling system to lubricate the mechanical part of the machine.
The machine can be operated in the step-by-step mode and the semi-auto mode.
The machine is small with low investment, easy and safe to operate .
Engineering item:
Capacity:1200-1500pcs/hr (based on 500ml)
Max volume of product: 2 liter
Technique Parameter of blow molding machine:
Main parameter:
Model
HM-1500
  Container
Product material
PET
Volume
0.1L-2L
Theoretical output
1200-1500PCS/H
Preform length
15mm-350mm
Preform inner diameter
φ5mm-38mm
  Molding
Max.mould plate Dimension(L x W)
350x380mm
Max.mould thickness
180mm
Clamping force
45KN
Mould opening stroke
160mm
  Machine size and weight
Main machine (L x W x H)
160x60x161CM
Main machine weight
500Kg
Heater (L x W x H)
187x63x145CM
Heater weight
250Kg
Power
17.5kw
HP and LP air compressor:
| | | |
| --- | --- | --- |
| Air compressor | Unit | 1.2M3/min 30KG |
| Volume | M3 | 1.2 |
| Pressure | Kg | 30 |
| Speed | r/min | 850 |
| Power | KW | 15 |
| Overall Dimension | mm | 2000*1100*1600 |
| Weight | kg | 620 |
Air Cooling Drier:
| | | |
| --- | --- | --- |
| Refrigeration Air Dryer | Unit | 3.0M3/min 3.0Mpa |
| Flow capacity | Nm3/min | 3.0 |
| W.P | Mpa | 3.0 |
| Inlet Temp. | ℃ | ≤80 |
| Dew point | ℃ | 23 |
| Ambient Temp. | ℃ | ≤38 |
| Power supply | V/HZ | 220/50 |
| Compressor power | Kw | 0.75 |
| Cold Medium | mm | 1050×650×1100 |
| Weight | Kg | 120 |
Powerful heating capacity
Preform heater adopts infrared lamp as heating unit. Infrared has powerful thermal-radiation capacity, which can heat up preform to required temperature in a very short time, while the strong thermal-penetrability provides continuous and uniform heating inside of preform and on surface of the preform.
Independent heating control system
Preform heater adopts independent temperature control unit for each heating zone to offer ideal temperature for various preform. Each heating lamp has a voltage regulator to control the voltage of the heating lamps and keep it working smoothly. With the LED display, it becomes easy and convenient to inspect and adjust the voltage value.
Preform heater is equipped with air-cooling and water-cooling device to remove the remained heat on preform loader and prevent preform neck from deformation. And reliable air exhaust system placed on the heater keeps heating temperature continuous and stable during preform heating process.
Multi adjusting device placed on the preform heater keeps the machine fitting with different performs. With those devices, the heating channel's width and height can be changed easily according to the different neck size and neck height.
Assistant unit for easy operation
For easy operation, preform heater is equipped with plenty of assistant units including centralised cooling water supply system, portable base unit for machine's convenient moving, reliable air entry unit and so on, which makes operation simple and convenient for
Reliable designed clamping system
JND-880 adopts a three-plate toggle clamping system to provide the powerful clamping force required by high pressure blowing up to 35 bars. Besides, the system has an adjustment device to change the distance between the front & middle mold-plate and the position of stretch-seal cylinder required in different mold installation
Different Setups For The Bottle Blowing Machine
Place formed preform onto preform holder of reheating unit. The preform holder carries the preform into oval heating channels where preform will be heated under set temperature.
Take out a pair of heated preform and place them into the blow mold
Press two startup buttons at the same tine, the machine starts automatic mold